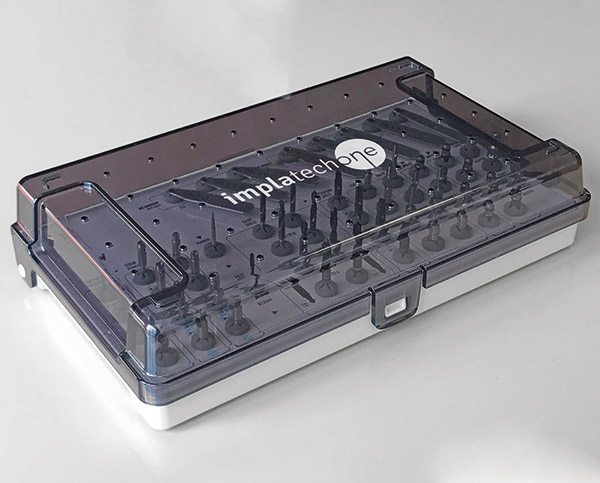 ImplatechOne Guided Surgical Set
It is designed for partial and/or total edentulous cases.
Provides easy, reliable, and predictable surgery.
Offers the opportunity to work in accordance with the surgical plan with the prosthesis guidance.
Makes flapless surgery possible.
The prosthesis solution can be loaded immediately.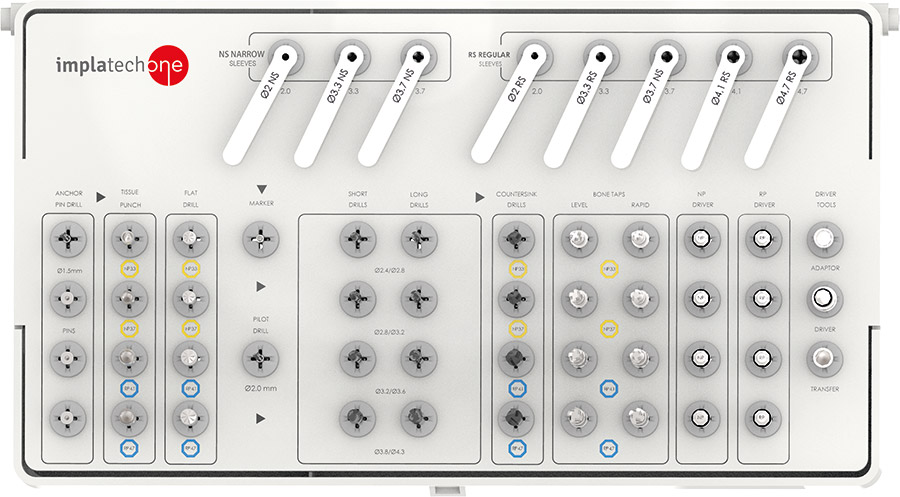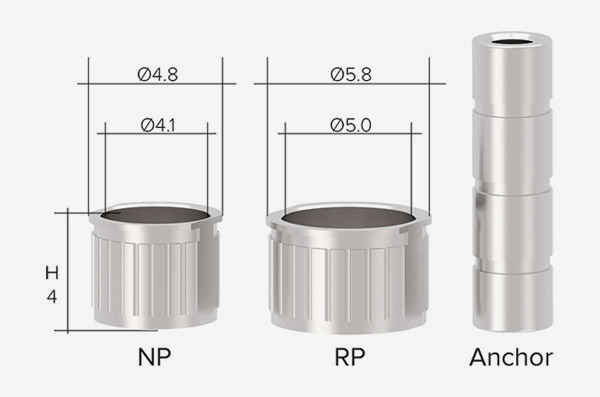 Titanium Sleeves
They are especially fit for the surgical template.
Can be measured easily on an x-ray.
Has 2 different diameters available. (NP Sleeve 4.1 diameter – RP Sleeve 5.0 diameter)
Simple surgical guide.
Fixation Drill and Pin
Ø 1.5 mm
PINS
Marker Drill

Pilot Drill Ø2.0 mm
Ø 2.0 mm
Soft Tissue Punch
Ø 3.3 mm
Ø 3.7 mm
Ø 4.1 mm
Ø 4.7 mm
Straight Drills
Ø 3.3 mm
Ø 3.7 mm
Ø 4.1 mm
Ø 4.7 mm
Short Drills
Ø 2.4 / 2.8 mm
Ø 2.8 / 3.2 mm
Ø 3.2 / 3.6 mm
Ø 3.8 / 4.3 mm
Long Drills
Ø 2.4 / 2.8 mm
Ø 2.8 / 3.2 mm
Ø 3.2 / 3.6 mm
Ø 3.8 / 4.3 mm
Countersink Drill
Ø 3.3 mm
Ø 3.7 mm
Ø 4.1 mm
Ø 4.7 mm
Bone Taps
Ø 3.3 mm
Ø 3.7 mm
Ø 4.1 mm
Ø 4.7 mm
Drivers
NP
RP
Ratchet Adaptor

Screw Driver

NS Platform Guide Rings
Ø 2.0 mm
Ø 3.3 mm
Ø 3.7 mm
Angle Druva Adaptor

RS Platform Guide Rings
Ø 2.0 mm
Ø 3.3 mm
Ø 3.7 mm
Ø 4.1 mm
Ø 4.7 mm
Hand Driver

Torque Ratchet