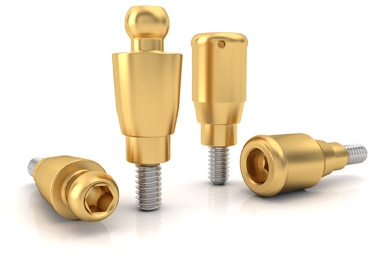 OVERDENTURE
RESTORATION SOLUTIONS
With Titanite coated Ball Abutment and/or Locator Abutment, we offer a removable Rhein83 prosthesis option that provides high retention and stability on implants without angular problems in total edentulous cases. In addition, Zest Anchor plastic and metal caps (housing/matrix) are used in order to be loaded with up to ± 20 degree angulation in both angled and removable total edentulous prosthetic restorations.
Rhein 83 removable prosthesis solutions provide high retention and stabilization in implant-supported prostheses without angle problems in edentulous cases. With TIN Titanium and Nitrite technology, it provides excellent success by minimizing the surface friction coefficient.

Platform
Ref. No
Diameter | Height
02.06.10.05
H 0.5 / 1.0 / 2.0 / 3.0 / 4.0 / 6.0 mm
Ø3.3-Ø3.7
02.06.20.05
H 0.5 / 1.0 / 2.0 / 3.0 / 4.0 / 6.0 mm
Ø4.1-Ø4.7

Global Abutment
(Titanium GR5)

Ball Analog
(Stainless Steel)

Pick Up
(Plastic)

Metal
Housing

Plastic
Housing

O-ring
(Plastic)
It allows loading with an angle tolerance of + – 20 degrees in removable implant-supported prostheses. Zest Anchor, the number one manufacturer in the world, provides high bending ability and excellent flexibility with its plastic and metal female/male (housing/matrix) compatible parts.

Platform
Ref. No
Diameter | Height
02.07.10.05
H 0.5 / 1.0 / 2.0 / 3.0 / 4.0 / 6.0 mm
Ø3.3-Ø3.7
02.07.20.05
H 0.5 / 1.0 / 2.0 / 3.0 / 4.0 / 6.0 mm
Ø4.1-Ø4.7

Locator Abutment
(Titanium GR5)

Locator Analog
(Stainless Steel)

Pick Up
(Plastic)

Metal & Plastic
Housing